At the beginning of the Millennium 2000, Burning Man had evolved from 1986 when two friends drove their young sons to a beach in San Francisco's Golden Gate to celebrate the Summer equinox.
Over the next decade and a half Burning Man grew from a cacophonous group of free-spirited individuals attracting many artists and seekers. They were stimulated, motivated and inspired to participate in what has become one of the grandest expressions of creative freedom.
David Best was an established artist, a contemporary of William Wiley, Rick Griffin, Robert Hunter. with a masters degree from the San Francisco Art Institute. David took classes with Jerry Garcia and Robert Arneson. In the year 2000, Burning Man became the next phase in his art career. The Temples David Best and the Temple Crews created became the soul of Burning Man. David created a moderately sized Temples in 2000 to commemorate the death of a friend who died in a motorcycle accident on his way to Burning Man. The next year, the Temple became bigger and more reverent toward humanity. At its heart, it remained ART! The Temples continued to become elaborately more unique and larger.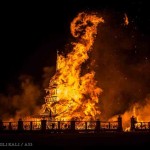 David Best and the Temple Crew created eight Temples at Burning Man. They were all significant and extraordinarily unique and impactful.  The following images and videos are documentations of what transpired there. The Temples reduced the  Burners to tears, no matter what their states of mind. The Temples evoked emotions and reflections so highly different than what was transpiring on the rest of the Playa as chaos literally exploded around them . The Temples provided stillness to reflect, realize you are human, remember, forgive and acknowledge. They were incredibly spiritual.
See below for several images and a video from Burning Man:
The Temple Burning Man 2016
by Temple Crew Member Dave Washer

Photos by The Temple Crew: click to enlarge the images.