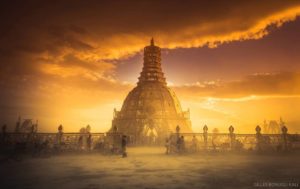 Creating and building these Temples is hugely labor intensive requiring hundreds and thousands of human hours. Studio work space requires renting buildings and spaces to accommodate three to fourteen story structures. Material costs and machine manufacturing are enormous budget items. Logistics for transporting material, whether in its raw or fabricated form, can require several to a dozen trucks and trailers. Transportation for and on site housing of the Temple Crew for weeks at a time adds significant cost to the budgets.
YOUR financial contributions will support and assist David Best and the Temple Crew to create these installations, unaffiliated with any religion, to provide communities and individuals a free and open place to reflect, honor, grieve or atone.
David Best Temples is a California non-profit providing a tax-deductible vehicle for your donation. We currently have fiscal sponsorship through the Burning Man Project until the Federal tax exempt status is granted. Your donation/contribution is tax deductible.
As a fiscal sponsee of the Burning Man Project, tax-deductible contributions can be made by credit card, check, wire transfer, or in-kind donations by following the instructions below:
Credit Card: Burning Man now provides a "Click & Pledge"online donation link for David Best Temples. On this page, donors may either use a credit card or an e-check to contribute. Donations go to Burning Man Project and are then redistributed to David Best Temples.
Wire Transfers: If a donor would like to send funds via Wire Transfer, please email fiscalsponsorship@burningman.org to request the necessary information to donate to David Best Temples.
Check: A donor can write a check to send via USPS, UPS, or FedEx to Burning Man Project. The check must be payable to "Burning Man" and clearly name David Best Temples with a specific project; for example, "Parkland Florida" in the check memo, or in an attached letter.
Please mail the check and accompanying letter or memo to :
Burning Man Project
℅ Fiscal Sponsorship Program
660 Alabama Street, 4th Floor
San Francisco CA 94110
Other Methods: While we prefer to receive money only by the methods discussed above, receiving other types of donations may be possible under some circumstances. These alternative methods may be in-kind donations, stock or equity vehicle, etc. The donor will need to contact fiscalsponsorship@burningman dot org to inquire about any special cases.
Going forward in 2018 and 2019; there are international opportunities to create Temples in Spain, France and in Northern Ireland, and in communities throughout the world not yet identified. We ask for your support to enable David Best and the Temple Crews to create community spaces to help heal and resolve conflict.
Please email information@davidbesttemples dot org: further information will be provided how to contribute, and how to answer your questions.
Thank You for donating.
We can not do this heartfelt work without you.
~David Best and the Temple Crew