The Temple of Time was  released May 19, 2019
Bloomberg Public Art Challenge 2018: Inspiring Community Healing After Gun Violence: The Power of Art – Coral Springs, Florida in partnership with the City of Parkland, Florida and the Coral Springs Museum of Art received a grant from the Bloomberg Philanthropies Public Art Challenge 2018.
Five art installations will be created with extensive input from residents and placed throughout the city. Community advisory participants will include members of the Coral Springs Police Department, Cultural Affairs division, licensed art therapists, and Marjory Stoneman Douglas students.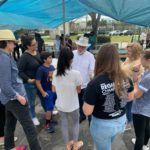 David Best was chosen with four other internationally acclaimed artists and art groups to work with the community to create artworks to promote collective healing and reflection.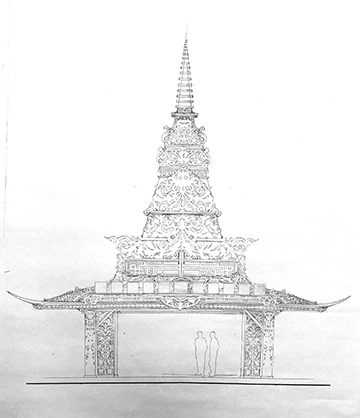 David and the Temple Crew  created a non-denominational interactive artistic temple structure for everyone titled Temple of Time.
The community was consulted and included to address their needs and wishes for a place to pay respect and express sorrow and love for the people in Parkland and Coral Springs so intensely affected by the tragedy that occurred there. The installation was installed for an opening February 14, 2019, the first anniversary of the tragedy. The Temple of Time was released in a burn on May 19, 2019. David Best Temples expresses sincere condolences for the community of Parkland and its high school students. We want to thank Bloomberg Philanthropies and VIA Partnership to entrust David Best and the Temple Crew with this meaningful project
Media Links:
CNN
Sun Sentinel
Coral Springs Talk
Miami New Times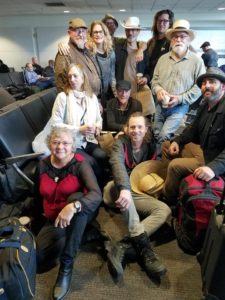 The Temple Crew assembled at San Francisco International Airport ready to embark to Coral Springs, Florida to work with other crew members, volunteers and the community. 
February 10, 2019 – Dave Washer: Temple Crew
Yesterday's lesson—- David asked me to work with a husband and wife on a project I was doing… patiently I explained, and then I explained again and again, showed them— still they couldn't get it, around in circles we went, feeling slightly frustrated taken off my task of completion. Suddenly I stopped, a beautiful corner of the Temple where we were working. I took a breath. An easy question came to mind. "Do you have any children?" I asked. "Yes one, who survived." She wanted to say more. I nodded holding her in my eyes. "Is it okay to talk about it here?"
"Of course, this is the perfect place to talk about here"
They both shared the story of their son's, heartbreaking and scary and their journey and the post ptsd that he carried… the conversation ended in warm tears and we lovingly embraced and we went to work…
And they truly helped in the part they built.
I learned a lot in that moment ~Dave Washer
#parklandstrong #parklandtempleoftime
A day in the life of a temple build from dave washer on Vimeo.
The following photos are the Temple Crew working on site with students and community volunteers : Temple Crew Photos: Theresa Harris/Jules Nelson-Gal/Dave Washer/Ana Roth/ Crimson Rose 
click images to enlarge photos